REPORT | DECEMBER, 2020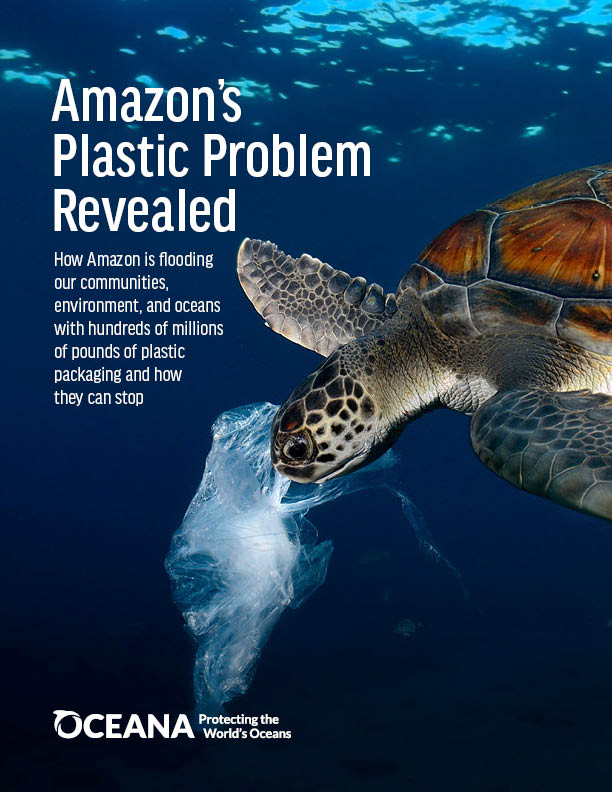 Oceana released a report — based on an analysis of e-commerce packaging data — that found Amazon generated 465 million pounds of plastic packaging waste last year. This is comprised of the air pillows, bubble wrap, and other plastic packaging items added to the approximately 7 billion Amazon packages, delivered in 2019, according to news accounts. The report found that Amazon's estimated plastic packaging waste, in the form of air pillows alone, would circle the Earth more than 500 times.
The study also, by combining the e-commerce packaging data with findings from a recent study published in Science, estimates that up to 22.44 million pounds of Amazon's plastic packaging waste entered and polluted the world's freshwater and marine ecosystems in 2019, the equivalent of dumping a delivery van payload of plastic into the oceans every 70 minutes.
The report calls on Amazon to reduce its plastic footprint and:
Listen to its customers: As an immediate measure, Amazon should give its customers what they want and offer plastic-free packaging as an option at checkout.
Be fully transparent and hold itself accountable for its plastic footprint and environmental impact as it already has for climate change: Amazon should report on its plastic footprint on a regular basis. This data should be independently verified.
Eliminate plastic packaging as it has already done in India. Amazon should also increase products shipped in reusable containers and adopt policies that can be demonstrated to reduce plastic pollution rather than making empty claims about "recyclability."
Take Action
Post your plastic packaging to social media with #PlasticFreeAmazon and tagging @Amazon and @Oceana
Materials
Media Contacts